IntelliCom Series - IntelliCom xxS/A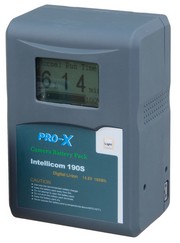 Capacity:
95Wh / 130Wh / 190Wh
Voltage:
14.8v
Weight:
0.9Kg / 1.1Kg / 1.9Kg
Size:
148 x 98 x 52mm (95Wh / 130Wh)
148 x 98 x 75mm (190Wh)
Gold Mount / V Mount compatible
Moli Li-ion Cells
Shock absorbing non-slip shell to protect the battery pack
IntelliCom RunTime LCD
The IntelliCom Series Battery LCD displays Normal RunTime based on a 30w draw when the battery is not in use.
When connected to a camera, the Intellicom Battery calculateds the Remaining RunTime based on the actual draw.
When connected to a charger, the IntelliCom Battery calculates the Remaining ChargeTime until completion.
The back-lighted LCD can be activated by pressing the button for two seconds
Built in Microprocessor
The Microprocessor built in stores the battery's Model, Serial Number, Voltage, Temperature, Current, Chemistry Charge Cycles and Date of Manufacturing, which can be read from the LCD panel of Pro-X Digital Chargers. The Microprocessor adjusts to insure the optimal charging sequence.
Viewfinder Capacity Display
The Intellicom Series can communicate with the most current cameras to display your remaining battery capacity in your camera's EVF.
Available with compatible cameras